Naples, FL, October 7, 2019: Heat Treat Today, a globally recognized multimedia outlet serving manufacturers across multiple industries with in-house heat-treating capabilities, has named Pelican Wire's Brinson White & Brenton Weiskopf to their '40 Under 40' list for 2019.
Pelican Wire CEO, Ted Bill says "We're so pleased to see Brenton and Brinson get this well-deserved recognition. Their individual contributions to the overall success of our entire organization are immense and we consider ourselves fortunate to have professionals of their caliber as part of our team of employee-owners."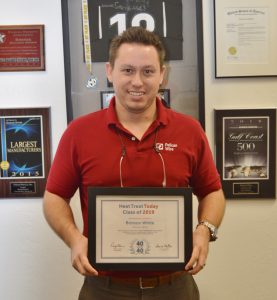 Brinson White, who began as an intern in the Pelican Wire Engineering Department during his college years at the University of Central Florida, has been with Pelican Wire since 2012 and is now the Director of Engineering, with responsibility for all Engineering teams at Pelican Wire in Naples, Florida and their sister company, Rubadue Wire, in Loveland, Colorado.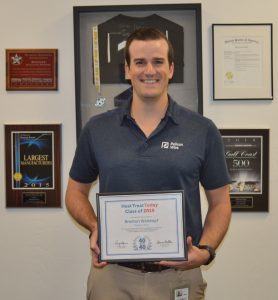 Brenton Weiskopf, who also joined Pelican Wire directly after graduating from the University of Central Florida in 2014, is a Design Engineer & works with customers across the globe to build spec-based wire solutions for a myriad of industries and end-products, including components in aerospace, alternate energy, automotive & numerous industrial applications. He is also pursuing a certificate as a Project Management Professional (PMP) and is the Engineering lead on the company's ERP project.
Heat Treat Today Senior Editor, Laura Miller, says "As we've visited folks from around the heat treat world, we've encountered some amazingly talented young professionals who are making a mark in their sphere in the industry. They are recognized by their companies or customers or suppliers for their loyalty, determination, customer-oriented focus, creative problem-solving, and go-getter, can-do attitudes. We at Heat Treat Today just think these young professionals deserve to be acknowledged industry-wide. They are the future of heat treating."
All honorees will be recognized at Heat Treat 19 on October 17 in Detroit, Michigan.
ABOUT PELICAN WIRE: Pelican Wire is an employee-owned manufacturer of application-driven wire solutions in the areas of thermocouple, resistance and custom wire. With specialties in the fine-gauge and high-temperature wire fields, Pelican Wire works globally across multiple industries, offering custom solutions in Aerospace, Medical, Industrial, Automotive, Defense and many other fields. For media inquiries or additional information, please contact Pelican Wire at (239) 597-8555 or online at PelicanWire.com .
ABOUT HEAT TREAT TODAY: Heat Treat Today provides heat treat technology, tips and tricks to manufacturers with in-house heat treat departments especially in the aerospace, automotive, medical, and energy sectors as well as general manufacturing. The media brand includes print editions, multiple e-newsletters, a website, and regular Heat Treat Radio podcasts. More information can be obtained at www.heattreattoday.com.
Press Release available at:
Media Contact: Trent Dunn, tdunn@pelicanwire.com, 239.597.8555
Pelican Wire
3650 Shaw Blvd.
Naples, FL 34117
(239) 597-8555
###