In an effort to contribute directly to the fight against COVID-19, Pelican Wire has donated a large quantity of precision wire to ZSK, an embroidery equipment manufacturer that specializes in technical embroidery for putting wires and nonstandard materials into fabrics. Bendshape, a wearable electronics company, is also a development partner in this project with ZSK, who is taking the lead on production.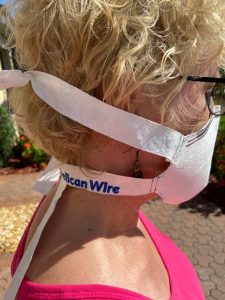 Pelican Wire Business Development Manager, John Niggle says "We've been working with the team at ZSK Technical Embroidery Systems, a division of ZSK USA Inc., on an e-textile product development program and continue to be impressed by the precise capabilities of their commercial embroidery equipment and the commitment to quality from their organization. When the opportunity arose to send some wire to ZSK to be used in creating a 'shapeable' mask, we jumped at the opportunity. It's a privilege working with a company that puts such precision and care in their products and their people."
While remaining open as an 'Essential Business' during the COVID-19 pandemic, Pelican Wire has been manufacturing numerous custom wire solutions for other 'Essential' business partners in key industries, but were particularly pleased to join in a 'front-line cause' as this project offered.
Dr. Topher Anderson, Technical Embroidery Manager for ZSK says "The wire we received free-of-charge from Pelican Wire runs perfectly with this project. All three companies, Pelican, BendShape, and ZSK are aligned in their mission to help have a direct impact on attempting to reduce the spread of Covid-19. We appreciate their support and it came when we needed it the most."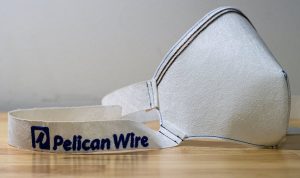 ABOUT PELICAN WIRE: Pelican Wire is an employee-owned manufacturer of application-driven wire solutions in the areas of thermocouple, resistance and custom wire. With specialties in the fine-gauge and high-temperature wire fields, Pelican Wire works globally across multiple industries, offering custom solutions in Aerospace, Medical, Industrial, Automotive, Defense and many other fields. For media inquiries or additional information, please contact Pelican Wire at (239) 597-8555 or online at PelicanWire.com .
Media Contact: Trent Dunn, tdunn@pelicanwire.com, 239.597.8555
Pelican Wire
3650 Shaw Blvd.
Naples, FL 34117
(239) 597-8555
###