Pelican Wire was named Manufacturer of the Year in the Small Business category at the 2018 Manufacturers Association of Florida 'MAF Exchange' conference and awards banquet. This year's event was hosted at the Vinoy Renaissance in St. Petersburg, Florida from September 19-21, Pelican Wire was selected from over fifty nominees spanning numerous industries and cities throughout the State of Florida.
"What a tremendous honor for all the Employee-Owners of Pelican Wire to receive such a prestigious statewide award from the MAF and the panel of judges, who are also peers in the manufacturing space," said Pelican Wire President Ted Bill. "We take great pride in representing our home community of Southwest Florida at the State level."
This is the second time Pelican Wire has won the 'Manufacturer of the Year' award, having also won in 2014. "The application process is very thorough, and our judge's criteria touches almost every aspect of a business, including company culture, measurable growth & responsible resource management, to name a few. To win this award is truly a distinction of excellence. Pelican Wire has won twice in five years, a feat accomplished by less than a handful of companies across the State of Florida," said MAF Executive Director, Amanda Bowen.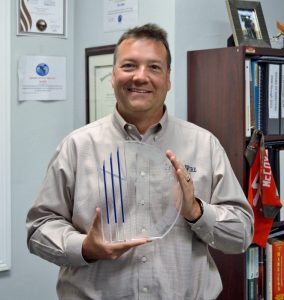 ABOUT PELICAN WIRE: Pelican Wire is an employee-owned manufacturer of application-driven wire solutions in the areas of thermocouple, resistance and custom wire. With specialties in the fine-gauge and high-temperature wire fields, Pelican Wire works globally across multiple industries, offering custom solutions in Aerospace, Medical, Industrial, Automotive, Defense and many other fields. For additional company or product information, please contact Pelican Wire at (239) 597-8555, email at sales@pelicanwire.com or online at PelicanWire.com .
ABOUT MANUFACTURERS ASSOCIATION OF FLORIDA (MAF): The MAF was formed in 2006 to improve the business climate for manufacturers in Florida. There are some 20,000 manufacturers in Florida investing in new technology, employing highly skilled workers and competing globally. For more information about MAF, visit www.MAFmfg.com.
Media Contact: Trent Dunn, tdunn@pelicanwire.com, (239) 597-8555.